Energy Efficient HVAC Design
Most fixed-speed compressors in traditional HVAC systems only operate at 0% and 100%; in other words, fixed-speed compressors are either off or on, wasting energy when partial-load conditions prevail. And even if you have a traditional system with 2 or 3 stages, it doesn't compare to the full-range variable capacity of the inverter-driven system that fully supports part-load operation.
In comparison, INVERTER compressors ramp up quickly, providing the energy necessary to achieve the cooling or heating demand of the zone. Then, working in tandem with system controls and sensors, the INVERTER compressor varies its speed to maintain the desired comfort level. Thus, the system performs at only the minimum energy levels necessary and does not waste electricity when partial-load conditions are present, which is 97% of the time in most locations.
The industry is beginning to recognize part-load operations-part-load systems are now being rated with a new procedure yielding an Integrated Energy Efficiency Ration (IEER) rating. This is a great improvement over the IPLV (Integrated Part Load Value) method. To obtain IEER ratings, the systems are tested at four different capacity levels and outdoor temperature conditions to provide a very accurate part-load measure. IEER will be the gold standard for part-load systems in the near future, and Mitsubishi VRF systems, with the INVERTER technology, are designed to be among the best.
Mitsubishi VRF and smaller split systems also save energy through zoning capabilities; INVERTER-driven VRF systems can be sized and designed to adjust for a building's solar gain and the changing seasons. And certain VRF systems have the ability to simultaneously operate in cooling and heating-using the building's own environment to save energy. These systems, also called heat recovery systems, use a branch circuit (BC) controller to control energy. The BC controller can remove energy from one zone that doesn't need it, and apply it to a different zone that does. The BC controller performs all the work, bypassing the compressor unit and saving electricity. Click on the "Zoned Comfort" link for more information.
Tax Credit and Comfort Rebates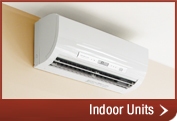 With the advanced technologies that are incorporated in the Mitsubishi Electric systems, many meet or exceed the energy efficiency specifications of the Environmental Protection Agency's ENERGY STAR® program. The systems range in capacities and consist of cooling-only, heat pump, two and three room multi zone systems.
Some of these same systems qualify for up to $300 in tax credits as energy-efficient home improvements under the American Recovery and Reinvestment Act.
Quiet Air Conditioner Operation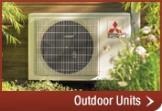 The compressor and evaporator components are housed in separate units in City Multi and Mr. Slim systems-a design feature that provides the quietest possible operation for both indoor and outdoor environments.
Mr. Slim and City Multi indoor and outdoor units are ideal for applications where quiet is a necessity-libraries, places of worship, lecture halls, classrooms, bedrooms, living rooms, home theaters, and more. Sound pressure levels on Mr. Slim indoor evaporator units range from 19 dB(A) at low speed to 49 dB(A) at high speed; sound pressure levels on City Multi indoor evaporator units range from 22 dB(A) at low speed to 47 dB(A) at high speed. Compare those decibel levels to standard indoor sound levels, which are generally between 45 and 55 dB(A). Mr. Slim and City Multi indoor units emit similar sound levels you'd expect from a whisper, the inside of a library, or the rustling of leaves in secluded woods. And the great variety of indoor unit styles gives you greater flexibility in deciding on the style, from wall mounted to ceiling concealed, to further minimize any unwanted sound.
Mr. Slim and City Multi outdoor compressor units are also quiet-operating from 50 dB(A) (small capacity Mr. Slim compressor units) to about 65 dB(A) (for the larger City Multi modular units). Special care has been taken in the design of the outdoor units to compartmentalize the compressor so that sound is reduced at the source. Specially designed blades and multi-speed motors also reduce system operation sound. The low sound levels allow these outdoor compressor units to be installed near windows, on balconies or near rooftop amenities, giving you back usable space and minimizing disruption to your environment.
Zoned HVAC Systems
Intelligent indoor units have sensors to measure room air temperature at the return, or if the design requires it, air temperature can be measured at a remote thermostat. The ability to choose the measurement location allows for better air temperature management, maintaining the set point within 1 degree Fahrenheit (half of a degree Celsius). Some split and VRF system indoor units feature an i-see™ sensor accessory, which senses and compares air and floor temperatures, and then adjusts vane direction as needed to optimize the comfort within the space. Also, each indoor unit features linear expansion valves to ensure the precise amount of refrigerant is delivered to the zone.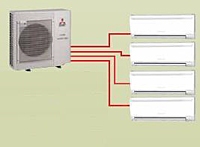 Mitsubishi VRF and split systems with multiple indoor (air-handling) evaporator units connected to an outdoor compressor unit can deliver just the right amount of refrigerant to precisely meet each zone's load. Indoor units can be controlled to operate only in those occupied areas that need conditioning; indoor units in vacant areas can be turned off. By conditioning only the occupied areas, heating or cooling capacity is not wasted.